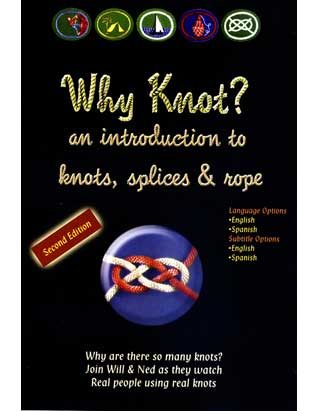 Learn 47 knots and 6 splices
Why Knot? an introduction to knots, splices & rope
Knot Tying Video
Each DVD Contains 2+ hours of Knot Tying FUN!
... because learning to tie knots from a book or diagram can be frustrating and take hours.
What People are saying about Why Knot?:
I highly recommend the Why Knot DVD for the beginner to knot tying. Following the DVD step by step enabled me to learn enough in two hours to actually teach others how to tie a dozen knots at a knot tying-exhibit booth at an international youth congress. I can still picture how to tie everything from a sheepshank to a bowline. This DVD sets the standard for teaching knot tying. --Phil, IL

This is a must get DVD for anyone dealing with outdoor sports or recreation. This gives you all the knots that you will ever need for fun and safe outings. Parents with kids in any type of scout or outdoor group --- you will feel safer knowing that your child has learned all there is to being a well equipted knot expert. It is easy to use and has great graphics for noting detail and practicing each knot. We use it to teach our kids. Our daughter was one of the top kids in Illinois in speed knot tying competition this year because of this execellent DVD. -- Joel, IL

This is the best and easiest DVD to use. It lets you see step by step how to tie different knots. We used the colored rope that matched the DVD. which made it much easier to follow. It is much easier than using a book. You can buy the colored rope off their web site. It was worth every penny that I paid for this DVD -- Brenda, CA

This instruction DVD has brought so much to the classroom, the students loved it and it was a delight to teach. Very simple to follow and I loved all the extras. On our next phase we are going to make rope, how cool is that?--Anonymous

This DVD has been very useful to me as a person who loves Outdoor Activities of every kind. Living in Korea it is not easy to find references for this kind of activities in English, so the DVD has been of great help. Because of the EXCELLENT presentation and the clear instructions, I've been able to use it to teach my Korean students some knot tying techniques while they practice English. It's awesome to have such a user friendly DVD at hand.-- V.Cordero, Korea

This video is excellent for first timers and also a refresher course for experience knot tyers.The video is easy to follow and makes learning knots enjoyable.-- Rocky
Great for Pathfinders, Scouts, Youth Groups & Outdoor Adventurers.